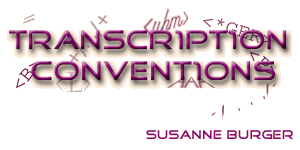 Instructions:
You can see the whole list of symbol : general mode
In this mode, each symbol used as an example is linked to its explanation page.
If you are working on a project:
Select a project. You'll be send the list of symbol used in the selected project.
Use the left menu or the "remote control" to move from one symbol to another.
Transcription Conventions:
.. Preliminary text: Susanne Burger
.. English Version: Victoria MacLaren
.. Web site: Céline Morel