SpeechRecorder
SpeechRecorder is a platform independent audio recording software customized to the requirements of speech recordings. Its distinguishing features are:
This page was last updated June 20 2018
Plain or HTML or SVG or RTF formatted text, image, audio and video (Windows only) prompts
to elicit speech in many different ways,
Unicode text
to display most of the world's languages,
XML-formatted recording scripts
for a flexible organization of recording sessions, including options for automatic recordings and randomized prompt selection,
Multi-channel audio input
for synchronous recordings over two and more audio input channels using the built-in or external sound devices,
Configurable speaker and experimenter screens
for an uncluttered and appealing graphical interface,
Platform independence
to run the software on any modern computer, from laptop to desktop.
SpeechRecorder was developed at the Bavarian Archive for Speech Signals (BAS) of the Institute of Phonetics and Speech Processing at Ludwig-Maximlians-Universität München.
This program comes with ABSOLUTELY NO WARRANTY.
Contact: Christoph Draxler, Klaus Jänsch

Screenshot: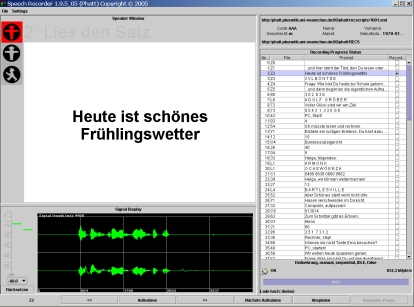 Requirements:
PC: Windows XP - Windows 10 or Ubuntu
Mac: Mac OS X 10.7 or later
Audio hardware: microphone and headphone or speakers
Installation packages:
Version 3.22.10
| | |
| --- | --- |
| Windows 7-10, x64 (64-bit), Java 8 runtime included, recommended for high resolution displays and video prompts | |
| Windows 7-10, x64 (64-bit), per user installer, Java 8 runtime included, recommended for high resolution displays and video prompts | |
| Mac OS X 10.9.x - 10.13.x, Java 8 runtime included | Please read the installation instructions for unsigned applications on Mac OS X 10.9 and later |
| Ubuntu Linux (new: support for 18.04 LTS!) | |
Notes:
Java 9 and 10 are NOT supported yet.
Windows 10 S is NOT supported.
Documentation
Known bugs and problems:
Plain text prompt presenter ignores right to left text direction (e.g. for Arabic text) for the words. (Fixed: 3.22.0)
Mac OS X CoreAudio audio interface adapter: Is sometimes not able to set the project sample rate (asynchronously). (Fixed: 3.22.0)
Mac OS X CoreAudio audio interface adapter: Only supports sample sizes given as physical sample size of audio device. (Often 24-bit for USB audio interfaces) (Fixed: 3.22.0)
Java 9 or later is not yet supported. (Affects only installations without bundled Java Runtime)
Prompt instructions cannot be completely deleted in script editor UI.
2016-09-30: Recording with limited duration does not stop in capture scope session mode when media prompt (audio,video) is shown. (Bug ID 0055)
Workaround: Set Project...->Recording->Options->Audio Capture Scope to ITEM
2016-10-13: Video prompts (Windows only): Video screen overlaps menu. (Cannot be fixed)
Too small UI elements on Windows High-DPI screens. Please use recommended installation package for high resolution displays. The application will start in a different display mode (not DPI aware), which scales the UI elements up to a better readable size. The bug will really be fixed with Java 9 and later, but this versions are not yet supported.
Recording length is sometimes shorter than the sum of pre and postrecdelay. Fixed: A warning appears. (Use Recording->Options->Capture scope: SESSION to avoid shortened recordings.)
Speechrecorder does not work with Presonus USB ASIO driver. Reason is unknown. (Bug ID 0025)
SVG prompts with embedded images do not work with OpenJDK (on Linux) (Apache Batik bug)
Wrong display of some mark space combining characters (e.g. with Khmer) on Mac OS X. (Bug ID 0020) (Java bug OpenJDK 8065625)
RTF (Rich Text Format) prompts do not work on Linux ( Sun/Oracle Bug in Java ).
(And many others... Please report.)
Planned features:
Grouping of recording script items (4.0.x)
Export project as EMU-Database (emuDB) (4.0.x)
Support Java 9 and later (5.0.x)
Formatted text prompts (without requirement for external SVG,RTF or HTML prompt media files) (6.0.x)
Keep playback lines open to avoid laggy playback start on some audio interfaces (6.0.x)
Store recordings and data in EMU (emuDB) structure and format (7.0.x)
Use captured audio stream length instead of timers for pre- and postrecording delay (7.0.x)
Splitting session, speaker and script information to cover more project scenarios (7.0.x)
Automatic recording level/quality control (7.0.x)
Replace Java Swing with JavaFX (10.0.x)
Video prompts (all platforms)(10.0.x)
Troubleshoot
Older versions and other downloads
List of available versions and downloads.
Development
Source packages to build Speechrecorder
---
---
"Oracle and Java are registered trademarks of Oracle and/or its affiliates. Other names may be trademarks of their respective owners."
"ASIO is a trademark of Steinberg Soft- and Hardware GmbH"